Newbury theatre guide
Find out about theatre events coming up in and around Newbury and West Berkshire, reaching out to Oxford, Basingstoke and Reading. Follow us on Twitter

. Email us at
Posters of forthcoming productions are below

In the spotlight
Mikron Theatre
Mikron Theatre Company are back in our area in July with their canal boat productions. This year their two productions are Raising Agents, a story about an attempt to take over a WI branch, and Red Sky at Night, about a woman trying to follow in her father's footsteps as a TV weatherman.
They're coming to Caversham Court on 19th (RA), the Rowbarge at Woolhampton on 20th (RA) and 26th (RS), Minall near Marlborough on 22nd (RS), The Cunning Man at Reading on 27th (RA), Goring Lock on 28th (RS) and 29th (RA).
An Inconvenient Wedding
The Walking Theatre Company are coming to Ogbourne Maizey near Marlborough on 15th July with their open air interactive murder mystery of An Inconvenient Wedding in aid of Youth Adventure Trust. It's at 19:30 (whatever the weather!) and you're invited to bring your own chairs and a picnic.
A madcap Clan gathering of murder, revenge, and an awful wedded wife! Two great warrior Clans are united at last through, er, "love". The Father of the Bride is your host for the evening, and has promised his Lady wife to be on his best behaviour and not to have anyone beheaded! Your presence is required to bear witness and help our naughty groom behave!

Newbury Theatre and Penny Post
Newbury Theatre has joined up with Penny Post to give updated theatre information, and it will also appear here. Penny Post is a great source of local information - if you don't know it already, I can thoroughly recommend it.
Online theatre
The National Theatre are making their NT Live recordings available online. You can subscribe for £9.98 a month or rent individual plays for £7.99.
You can search for reviews of previous productions - there are more than 900 pages of them in the Archive!
Latest news
| Date | Item |
| --- | --- |
| 26 Jun | Mikron Theatre Company return this year with their canal boat productions at various river and canal locations in the area, with a choice of two new plays. |
| 19 Jun | The Corn Exchange, Newbury have (at last!) changed their box office number from the premium 0845 number to 01635 522733. Booking for their autumn season opens on 23rd June. |
| 12 Jun | The Oxfordshire Drama Festival of one-act plays is at the Unicorn Theatre, Abingdon this week from 15th to 18th June. |
| 2 Jun | Reviews of the Watermill's Bleak Expectations ("the torrent of jokes proves pretty much irresistible... an effervescent, multitasking cast... What larks, eh, Pip?" ★★★★ - The Times; "it's a long time since I laughed so much at a play... the cast were magnificent... a very enjoyable production" - Newbury Theatre; "very, very funny... a great night out" ★★★★ - Broadway World; "riotously funny" - MickeyJoTheatre). |
| 30 May | Russell Players' next production is A Collage of Comedy, three light-hearted plays, in Swallowfield between 15th and 19th June. |
| 29 May | Compton Players are presenting a preview of their Edinburgh Fringe production In Her Defence on 14th July. |
Now and coming soon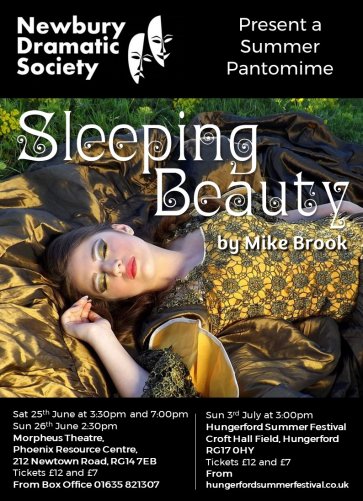 Newbury Dramatic Society are bringing their summer pantomime Sleeping Beauty to Newbury on 25th and 26th June and Hungerford on 3rd July. This version of the old tale has all the traditional features, plus some new twists bringing a few extra characters into the action. You'll meet the King, Queen and Princess as well as her saviour Prince and many others. Will goodness and romance win in the end? We're not telling. But after all, it is a pantomime.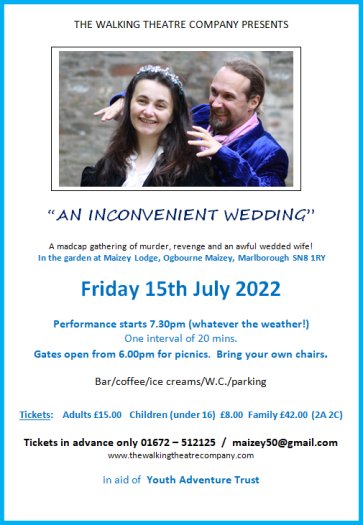 The Walking Theatre Company are coming to the gardens of Ogbourne Maizey near Marlborough with An Inconvenient Wedding on 15th July which sees the audience become guests at a royal wedding between two rival kingdoms - complete with murder, revenge, and a truly awful wedded wife! This comedic Murder Mystery original is "guided" by the Father of the bride who will see the audiences through the story as they play a key part in the action as it unfolds around them. In the end, the guests have to try to solve the mystery and capture the culprit who is trying to keep the lovebirds from their happy ever-after!
If you want your group's poster to be on the front page, then email it to the