Newbury theatre guide
Find out about theatre events coming up in and around Newbury and West Berkshire, reaching out to Oxford, Basingstoke and Reading. Follow us on Twitter

. Email us at
Posters of forthcoming productions are here.
In the spotlight

The annual Aldermaston York Nativity Play is back after missing a year in 2020 because of Covid. It's an adaptation of 8 or 9 plays from the 400-year-old York Mystery Cycle plays that tell the story of the first Christmas. We've published the Newbury Weekly News reviews of the play every year since 2000 - you can see them here. The cast comes from Aldermaston and surrounding villages, and many of them have played the same part for years. It's a magical setting in the church of St Mary the Virgin and tickets - available from October - are free from https://aldermastonnativity.co.uk/tickets. Performance dates are 2nd to 5th December.
See What's on for a list of everything.
Do you remember...
Newbury Operatic Society and Camelot in 1999? See below, under latest news. And here are the wolfhounds.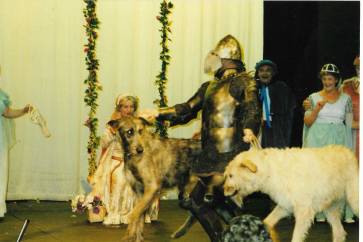 Online productions
Strangers is the new online film currently picking up critical acclaim at the online festival theSpaceUK. Written by local writer Nick Card and starring local actors Emily Browne and Steve Schollar it tells a dark tale of when two strangers meet by chance. Desperate circumstances lead to desperate action that result in a shocking revelation with disturbing consequences. Can things ever be the same again?
Newbury Theatre and Penny Post
Newbury Theatre has joined up with Penny Post to give updated theatre information, and it will also appear here. Penny Post is a great source of local information - if you don't know it already, I can thoroughly recommend it.
Online theatre
The National Theatre are making their NT Live recordings available online. You can subscribe for £9.98 a month or rent individual plays for £7.99.
You can search for reviews of previous productions - there are more than 900 pages of them in the Archive!
Latest news
| Date | Item |
| --- | --- |
| 30 Nov | An unusual request from David Harris of Newbury Operatic Society (now Newbury Musical Theatre Society). "I've just unearthed the NOS programme for the Nov 1999 production of Camelot. Before it goes for recycling, is it of interest to anyone? Our 2 Irish Wolfhounds (obviously long dead) made an appearance and received a very fine credit." Blimey, last century - that's a year before newburytheatre.co.uk started. If you're interested, contact David at |
| 28 Nov | Reviews of Compton Players' Evil Will Come ("it was, as is usual with Compton Players, a smooth, well-paced production with a sting in the tail" - NWN; "compelling one act thriller... full of twists and turns... directed with pace and sensitivity... delivering an extraordinary one act play in a most exceptional manner" - Janet Anderton). |
| 28 Nov | Review of Boundary Players' A Party to Murder ("What really impressed about this stylish thriller though, was the neat ensemble acting, in pairs, singles or as a group. All six actors were faultless... very good" - NWN). |
| 28 Nov | Woodley Light Operatic Society are performing Gilbert and Sullivan's Iolanthe at the Oakwood Centre from 8th to 11th December. |
| 21 Nov | The Corn Exchange are, as usual for their panto, putting on adult-only performances of Cinderella which will "bring a little innuendo and a sprinkle of extra silliness to your festive plans. A perfect night out for the grown-ups, it's the chance to let you hair down, grab a drink with us and enjoy the magic of pantomime with a few cheeky twists!" |
| 14 Nov | The Newbury Corn Exchange Cinema is showing the film Mothers of the Revolution from 26th November to 2nd December. It's the story of the women's peace camp at Greenham Common between 1981 and 2000. |
| 14 Nov | St Peter's Players' next production is We're Getting Ready For Christmas, a panto-themed miscellany of Christmas delights from 1st to 4th December in Wolvercote. |
| 10 Nov | Boundary Players' next production from 17th to 20th November in Tadley is A Party to Murder. |
| 6 Nov | The Newbury Corn Exchange's Spring season goes on general sale on 11th November. |
| 1 Nov | The Watermill have announced their spring season, starting with Spike in January. This is a new comedy by Ian Hislop and Nick Newman that delves into the inner workings of one of our most unique and brilliantly irreverent comedy minds: that of Spike Milligan. Next up in March is the musical The Wicker Husband which returns to the Watermill following its premature closure in March 2020. The third one in April is Our Man in Havana, a world premiere musical adaptation of Graham Greene's iconic novel. |
| 31 Oct | Rave reviews (four ★★★★★, one ★★★★) of The Mill at Sonning's Top Hat ("spectacular", "dazzling", "amazing", "fantastic", "magical") |
| 31 Oct | Purley Players' next production from 26th to 27th November is the comedy Big Idea. |
| 31 Oct | Overton Dramatic Society's panto between 30th November and 4th December is Adrian the alternative panto. |
| 31 Oct | Hook Players' next production between 26th November and 4th December is Murder with Ghosts. |
| 31 Oct | Abingdon Drama Club's panto between 7th and 15th January is Dick Whittington. |
| 31 Oct | NT Live and Encore productions at the cinema are back between January and March: Leopoldstadt, The Book of Dust - La Belle Sauvage and Hex. |
Now and coming soon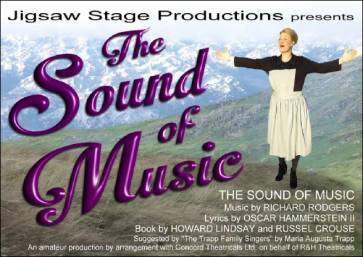 Jigsaw Stage Productions are bringing The Sound of Music to Didcot (2nd to 4th December). The tale of the the world-famous singing von Trapp family.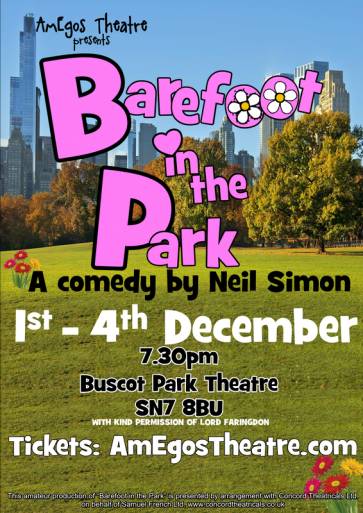 AmEgos' next production is Neil Simon's Barefoot in the Park from 1st to 4th December. Springtime in New York City. After their honeymoon, newlyweds Paul and Corrie move into their Manhattan apartment. She's determined to create a romantic home, despite bare walls, bad plumbing, eccentric neighbours and a hole in their skylight but when Corrie's mother arrives things begin to unravel.
If you want your group's poster to be on the front page, then email it to the