Newbury theatre guide
Find out about theatre events coming up in and around Newbury and West Berkshire, reaching out to Oxford, Basingstoke and Reading. Follow us on Twitter

. Email us at
Posters of forthcoming productions are below

In the spotlight
Help
An impassioned plea from Lesley Phillips of AmEgos:
I need rescuing! AmEgos Theatre now need to re-cast two leading roles in Me and My Girl, which is a flippin' shame but a fabulous opportunity for anyone who wants to play either Lady Jacqueline or Gerald... two great character parts. Playing age very roughly 25 - 45, Jacquie is a soprano or high alto and Gerald is a tenor. If you are not currently involved with your own group and if you fancy a musical outing with us... we are only 1 week into rehearsals, so you haven't missed much, drop me a mail URGENTLY. If you know anyone who would be amazing in either of these roles, please pass the message on. If you don't fancy a lead role, then come and be a singing, acting, dancing cockney and/or aristocrat... as we still need a couple of ensemble performers. Rehearsals Wednesday evenings and Sunday afternoons, show in Wantage 14th to 16th April.
GET IN TOUCH - we'd love you to join us for this show xxxx
Newbury Theatre and Penny Post
Newbury Theatre has joined up with Penny Post to give updated theatre information, and it will also appear here. Penny Post is a great source of local information - if you don't know it already, I can thoroughly recommend it.
Online theatre
The National Theatre are making their NT Live recordings available online. You can subscribe for £9.98 a month or rent individual plays for £7.99.
You can search for reviews of previous productions - there are more than 900 pages of them in the Archive!
Latest news
| Date | Item |
| --- | --- |
| 21 Dec | If we don't get locked down, the Morris Men and Mummers will be performing this Christmas, on Boxing Day and New Year's Day. Details here. |
| 19 Dec | A Day Out in Shakespeare's Theatre is the title of an online event taking place on 14th January. Hosted by the digital learning platform A Bit Lit and introduced by Simon Russell Beale and the author Emma Smith, it conjures up a trip to the theatre in the Bard's day, looking at the everyday decisions and production techniques that kept troupes busy. The project is aimed at audiences from 14 years upward. |
| 19 Dec | Basingstoke Amateur Operatic Society (BAOS) are looking for a bass with a strong bottom F, bags of energy and a love of Gilbert and Sullivan to join BAOS as the Sergeant of Police in The Pirates Of Penzance at the Anvil in March 2022. |
| 14 Dec | The excellent local group AmEgos are looking for an actor for their next show at Wantage in April. The show is Me and My Girl and the part is Bill Snibson. They need someone who can sing, dance, nail a cockney accent and be happy performing physical comedy. If that's you, get in touch with Lesley, the Director, at . |
| 5 Dec | Reviews of the Watermill's The Jungle Book ("magical... brimming with energy... a thoroughly enjoyable production" - NWN; "warm and beguiling... winningly sweet-natured" - ★★★ The Times; "a life-affirming quest for identity and a wonderfully inclusive seasonal show for all ages" - ★★★★ WhatsOnStage; "superb" - ★★★★ MusicalTheatreReview; "a very topical and clever adaption... an enchanting production for young families" - ★★★★ PocketSize Theatre). |
| 5 Dec | Review of Newbury Corn Exchange's Cinderella ("a fresh new vibrant interpretation in this fun filled fast paced show... oodles of audience participation, local references and groan-making puns... a joyous panto hit that shouldn't be missed" - NWN). |
| 30 Nov | An unusual request from David Harris of Newbury Operatic Society (now Newbury Musical Theatre Society). "I've just unearthed the NOS programme for the Nov 1999 production of Camelot. Before it goes for recycling, is it of interest to anyone? Our 2 Irish Wolfhounds (obviously long dead) made an appearance and received a very fine credit." Blimey, last century - that's a year before newburytheatre.co.uk started. If you're interested, contact David at |
| 28 Nov | Reviews of Compton Players' Evil Will Come ("it was, as is usual with Compton Players, a smooth, well-paced production with a sting in the tail" - NWN; "compelling one act thriller... full of twists and turns... directed with pace and sensitivity... delivering an extraordinary one act play in a most exceptional manner" - Janet Anderton). |
| 28 Nov | Review of Boundary Players' A Party to Murder ("What really impressed about this stylish thriller though, was the neat ensemble acting, in pairs, singles or as a group. All six actors were faultless... very good" - NWN). |
| 28 Nov | Woodley Light Operatic Society are performing Gilbert and Sullivan's Iolanthe at the Oakwood Centre from 8th to 11th December. |
Now and coming soon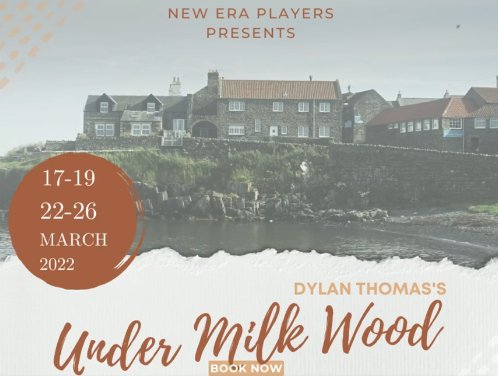 New Era Players in Wash Common are performing Under Milk Wood by Dylan Thomas between 17th and 26th March. Originally written for the radio as 'an impression for voices', our large cast is enjoying finding ways to stage it in our own unique way. We welcome you to come and enjoy this orchestration of voices, sights and sounds that conjure up the dreams and waking hours of an imagined Welsh seaside village within the cycle of one day.
If you want your group's poster to be on the front page, then email it to the