Newbury theatre guide
Find out about theatre events coming up in and around Newbury and West Berkshire, reaching out to Oxford, Basingstoke and Reading. Follow us on Twitter

. Email us at
Posters of forthcoming productions are below

In the spotlight

Open air theatre
King Lear: Oxford Castle (

Mon 1 to Sat 13 Aug, 19:30

). Power and madness walk hand in hand through Siege Theatre's retelling of this most tragic of tales.
Rapunzel: Shaw House, Newbury

(Wed 17 Aug, 19:00)

. Let your hair down and get tangled in a brand-new musical adaptation of the classic fairy tale!
See What's on for a list of everything.
BATS Next Gen
BATS Next Gen are the junior company of Basingstoke Amateur Theatrical Society and they're hoping to put on All Shook Up during February half term 2023 at Central Studio in Basingstoke, with Fiona Morgans and Elain Halloway director. Sadly due to other commitments they are now looking for a Musical Director and a Choreographer. If anyone can help or has any suggestions, can you please contact Elain directly when she will explain more about the show and the society. Elain can be contacted at:
Newbury Theatre and Penny Post
Newbury Theatre has joined up with Penny Post to give updated theatre information, and it will also appear here. Penny Post is a great source of local information - if you don't know it already, I can thoroughly recommend it.
Online theatre
The National Theatre are making their NT Live recordings available online. You can subscribe for £9.98 a month or rent individual plays for £7.99.
You can search for reviews of previous productions - there are more than 1000 pages of them in the Archive!
Latest news
| Date | Item |
| --- | --- |
| 31 Jul | Autumn season productions, plus the pantos from the professional theatres. |
| 28 Jul | Reviews of the Watermill's Whistle Down the Wind ("what makes this musical something special is the combination of skilful actor-musicians, stunning choreography and lighting and the excellent cast of children, singing and acting their socks off... a show with so much to enjoy" - Newbury Theatre, "an exceptionally talented cast of actor musicians... this touching revival manages to find many beautiful moments which make it an absorbing evening of theatre" ★★★★ - West End Best Friend). |
| 23 Jul | Reviews of the Mill at Sonning's Barefoot in the Park ("a strong production... a very funny play, exceptionally well acted" - NWN, "a fun evening" ★★★ - Broadway World, "the perfect play for a venue like the Mill at Sonning" ★★★ - The Stage, "a good night out by any standards" ★★★★ - ReviewsGate, "a lighthearted evening out" ★★★ - The Reviews Hub, "quite wonderfully dated, not to say nostalgic" ★★ - Theatre Cat, "a first-class production" ★★★★ - Pocket Size Theatre, "a comedic cast that are extremely talented" - The Live Review). |
| 20 Jul | Newbury Youth Theatre's brand new, devised, family comedy The Lost Letters previews at Arlington Arts on 23rd July before touring to the Edinburgh Festival Fringe. |
| 17 Jul | Review of Compton Players' In Her Defence ("a short but enormously smart and subtle play... Helen Saxton (writer and actor) and Pete Watt (director and actor) should be enormously proud of this very polished production designed and performed with professionalism and class. The audience were totally absorbed throughout and everything about In Her Defence was totally believable." - NODA). |
| 17 Jul | New Era Players' next production in Newbury is Agatha Chrisite's The Hollow between 8th and 17th September. |
| 3 Jul | Broadcast National Theatre productions coming up at local cinemas: Prima Facie, Much Ado About Nothing, Jack Absolute Flies Again. |
Now and coming soon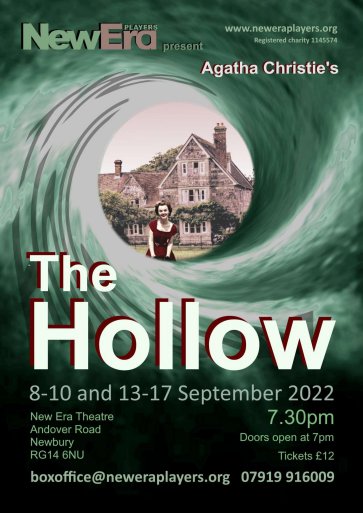 New Era Players' next production is Agatha Chrisite's The Hollow between 8th and 17th September. A cast of colourful characters are drawn together when Lady Angkatell invites cousins and friends for an entertaining weekend at the family country estate, The Hollow. With lovers past and present reunited, alongside rumblings of domestic discordance, the scene is set for a classic Christie murder mystery.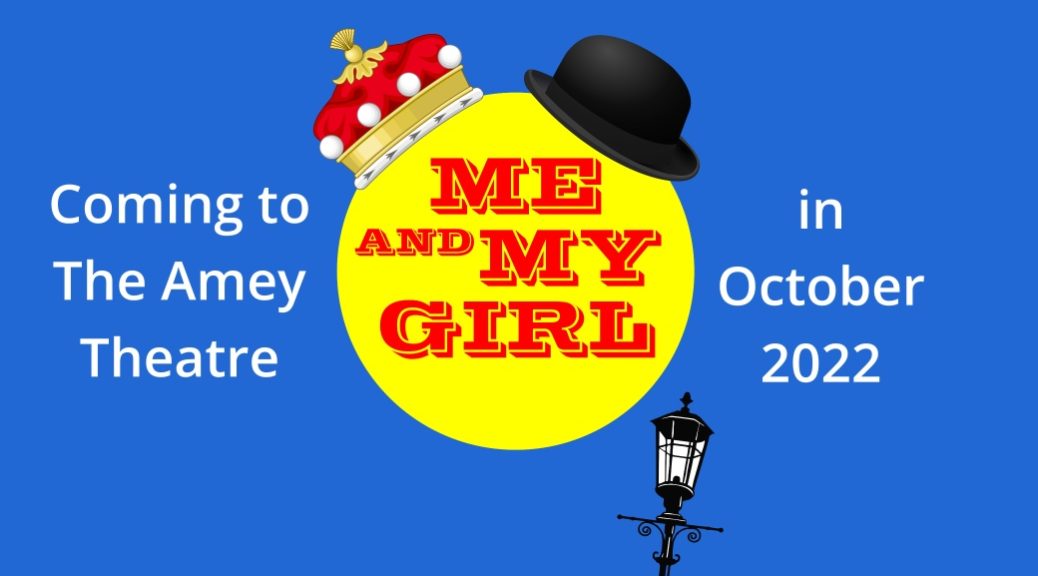 Abingdon Operatic Society's next production is Me and My Girl from 25th to 29th October. This was originally a roaring success in the 1930s, when it seemed the whole of the UK was mad about The Lambeth Walk and pearly kings and queens. Then, in the early 1980s, the show was revised by Stephen Fry and Mike Ockrent, and was even more successful than the original 1930s version.
If you want your group's poster to be on the front page, then email it to the