Newbury theatre guide
Find out about theatre events coming up in and around Newbury and West Berkshire, reaching out to Oxford, Basingstoke and Reading. Follow us on Twitter

. Email us at
Posters of forthcoming productions are here.
In the spotlight

The annual Aldermaston York Nativity Play is back after missing a year in 2020 because of Covid. It's an adaptation of 8 or 9 plays from the 400-year-old York Mystery Cycle plays that tell the story of the first Christmas. We've published the Newbury Weekly News reviews of the play every year since 2000 - you can see them here. The cast comes from Aldermaston and surrounding villages, and many of them have played the same part for years. It's a magical setting in the church of St Mary the Virgin and tickets - available from October - are free from https://aldermastonnativity.co.uk/tickets. Performance dates are 2nd to 5th December.
See What's on for a list of everything.
Online productions
Strangers is the new online film currently picking up critical acclaim at the online festival theSpaceUK. Written by local writer Nick Card and starring local actors Emily Browne and Steve Schollar it tells a dark tale of when two strangers meet by chance. Desperate circumstances lead to desperate action that result in a shocking revelation with disturbing consequences. Can things ever be the same again?
Newbury Theatre and Penny Post
Newbury Theatre has joined up with Penny Post to give updated theatre information, and it will also appear here. Penny Post is a great source of local information - if you don't know it already, I can thoroughly recommend it.
Online theatre
The National Theatre are making their NT Live recordings available online. You can subscribe for £9.98 a month or rent individual plays for £7.99.
You can search for reviews of previous productions - there are more than 900 pages of them in the Archive!
Latest news
| Date | Item |
| --- | --- |
| 20 Oct | Reviews of the Watermill's Brief Encounter ("bounces with energy and pace and is a delight to watch" - Newbury Theatre; "this Brief Encounter is not one that will be forgotten fast" ★★★★★ - The Guardian; "supremely joyous... an outstanding, life enhancing experience" ★★★★★ - WhatsOnStage; "this production ticks everyone's boxes... delightful" - Musical Theatre Review; "ambitious but uneven" ★★ - The Stage). |
| 14 Oct | New listings for Oxford Theatre Guild (Our Country's Good, 1st to 6th November), HAODS (Shrek, 24th to 27th November), Chiltern Players (A Christmas Carol, 2nd to 4th December) and Dorchester Amateur Dramatics Society (Snow White, 2nd to 4th December). |
| 11 Oct | New Era's next production is Lloyd George Knew My Father from 18th to 27th November. |
| 11 Oct | Faringdon Dramatic Society's next production is Ladies' Day from 11th to 13th November. |
| 3 Oct | KATS are taking part in the Thatcham Festival with I'm Sorry KATS Haven't a Clue on 13th October at Thatcham Parish Hall. Tickets are free but you need to book. |
| 3 Oct | Compton Players are presenting a new one-act play, Evil Will Come, from 18th to 20th November. |
| 29 Sep | Jigsaw Stage Productions' next show in Wantage and Didcot is The Sound of Music between 24th November and 4th December. |
Now and coming soon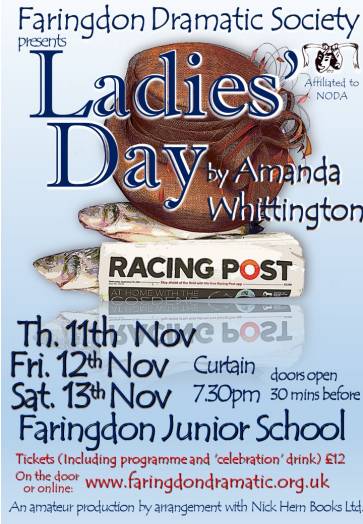 Faringdon Dramatic Society's next production is Ladies' Day from 11th to 13th November. An exuberant comedy about four likely lasses from the Hull fish docks on a day trip to the races. Work, love and life are just one long, hard slog for the fish-filleting foursome. But their fortunes are set to change when Linda finds tickets to Ladies' Day at Royal Ascot the year it relocated to York.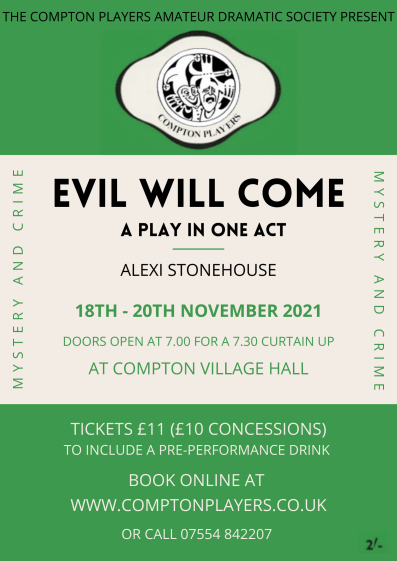 Compton Players return to the stage with Evil Will Come from 18th 20th November. London, 1947. Philip Mackinder is dead. His wife has shot him. In this homage to Agatha Christie, a court hears the evidence, and we see the events leading up to the fateful night. What could have driven a respectable pillar of the community to commit such an evil act?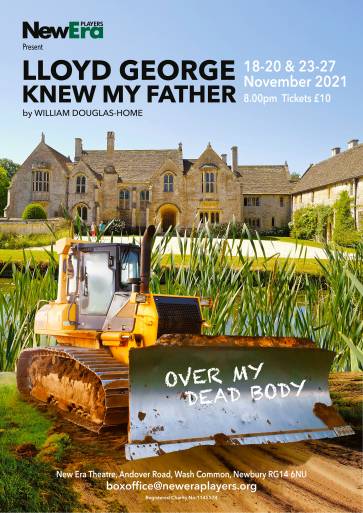 New Era's next production is Lloyd George Knew My Father from 18th to 27th November. Lord Boothroyd and Lady Boothroyd are the proud owners of Boothroyd Hall which has been in the family for three hundred years. When she learns that a bypass will cut through the Boothroyd land, she decides to take matters into her own hands and threatens to "do herself in when the first sod is turned".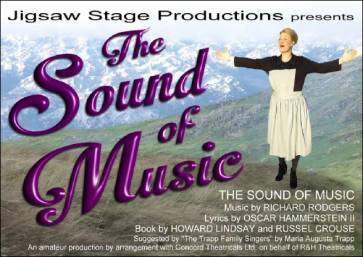 Jigsaw Stage Productions are bringing The Sound of Music to Wantage (24th to 27th November) and Didcot (2nd to 4th December). The tale of the the world-famous singing von Trapp family.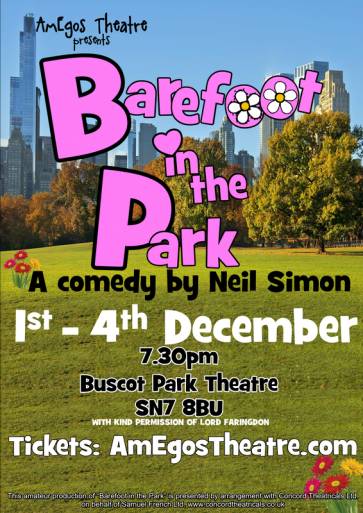 AmEgos' next production is Neil Simon's Barefoot in the Park from 1st to 4th December. Springtime in New York City. After their honeymoon, newlyweds Paul and Corrie move into their Manhattan apartment. She's determined to create a romantic home, despite bare walls, bad plumbing, eccentric neighbours and a hole in their skylight but when Corrie's mother arrives things begin to unravel.
If you want your group's poster to be on the front page, then email it to the