Newbury theatre guide
Find out about theatre events coming up in and around Newbury and West Berkshire, reaching out to Oxford, Basingstoke and Reading. Follow us on Twitter

. Email us at
Posters of forthcoming productions are below

In the spotlight
An Inconvenient Wedding
The Walking Theatre Company are coming to Ogbourne Maizey near Marlborough on 15th July with their open air interactive murder mystery of An Inconvenient Wedding in aid of Youth Adventure Trust. It's at 19:30 (whatever the weather!) and you're invited to bring your own chairs and a picnic.
A madcap Clan gathering of murder, revenge, and an awful wedded wife! Two great warrior Clans are united at last through, er, "love". The Father of the Bride is your host for the evening, and has promised his Lady wife to be on his best behaviour and not to have anyone beheaded! Your presence is required to bear witness and help our naughty groom behave!

Newbury Theatre and Penny Post
Newbury Theatre has joined up with Penny Post to give updated theatre information, and it will also appear here. Penny Post is a great source of local information - if you don't know it already, I can thoroughly recommend it.
Online theatre
The National Theatre are making their NT Live recordings available online. You can subscribe for £9.98 a month or rent individual plays for £7.99.
You can search for reviews of previous productions - there are more than 900 pages of them in the Archive!
Latest news
| Date | Item |
| --- | --- |
| 15 May | Newbury Dramatic Society are back in business with their 'summer pantomime' Sleeping Beauty in Newbury's Morpheus Theatre from 25th to 26th June and the Croft Hall, Hungerford on 3rd July. |
| 8 May | Reviews of the Mill at Sonning's Busman's Honeymoon ("fabulous, exquisite, and to use a phrase evocative of the period that the play is set in, totally spiffing!... Blessed has evoked the era with stunning effect" ★★★★ - Boyz; "a sparkling and convincing performance was given by all" - Wokingham Today). |
Now and coming soon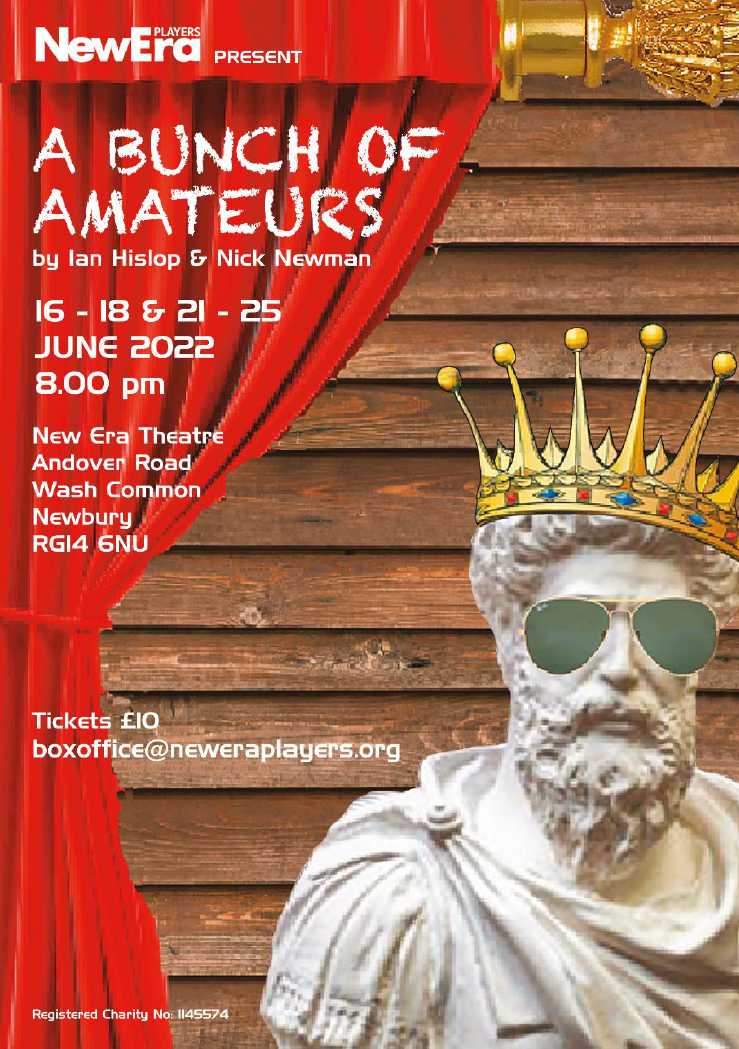 New Era's A Bunch of Amateurs is on in Wash Common between 16th and 25th June. Keen to boost his flagging career, fading Hollywood action hero, Jefferson Steele, arrives in England to play King Lear in Stratford, only to find that this is not the birthplace of the Bard but a sleepy Suffolk village and the cast are a bunch of amateurs. Jefferson's monstrous ego, vanity and insecurity are tested by the enthusiastic amateur thespians - who are not averse to a spot of ego, vanity and insecurity themselves.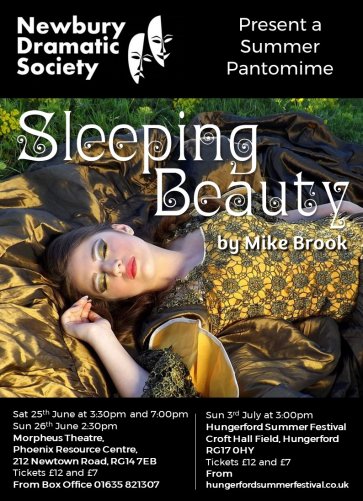 Newbury Dramatic Society are bringing their summer pantomime Sleeping Beauty to Newbury on 25th and 26th June and Hungerford on 3rd July. This version of the old tale has all the traditional features, plus some new twists bringing a few extra characters into the action. You'll meet the King, Queen and Princess as well as her saviour Prince and many others. Will goodness and romance win in the end? We're not telling. But after all, it is a pantomime.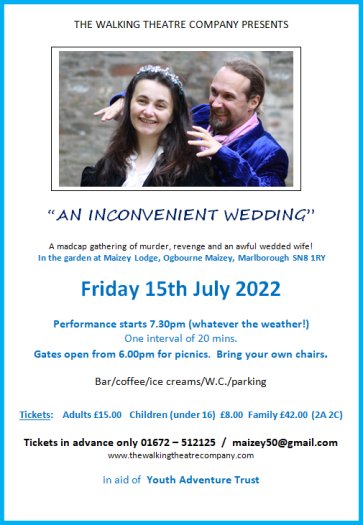 The Walking Theatre Company are coming to the gardens of Ogbourne Maizey near Marlborough with An Inconvenient Wedding on 15th July which sees the audience become guests at a royal wedding between two rival kingdoms - complete with murder, revenge, and a truly awful wedded wife! This comedic Murder Mystery original is "guided" by the Father of the bride who will see the audiences through the story as they play a key part in the action as it unfolds around them. In the end, the guests have to try to solve the mystery and capture the culprit who is trying to keep the lovebirds from their happy ever-after!
If you want your group's poster to be on the front page, then email it to the