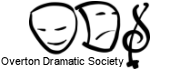 The ODS web site is at www.overtondramatic.co.uk. Facebook. Twitter: @OvertonDrama.
Last production
Title of Show, 24th to 28th May 2022
Title of Show is a brilliantly clever musical is all about two young men writing their very own musical... yet to be named! Set in a New York loft, Jeff and Hunter set out to create a musical for a festival... in just three weeks! With the help of their actress friends, Susan and Heidi, can they do it? The songs are catchy and the show itself has a wonderful storyline about love, individuality and creativity.
Where
St Mary's Hall, High Street, Overton RG25 3HA.
Box Office
See the web site for box office information.
Previous productions
Adrian the alternative panto, 30th November to 4th December 2021
Flint Street Nativity, 26th to 30th November 2019
Silly Cow, 8th to 11th May 2019
Alice In Wonderland, 27th November to 1st December 2018
Spamalot, 5th to 9th June 2018
Jack and the Beanstalk, 28th November to 2nd December 2017
Guys and Dolls, 22nd to 27th May 2017
The Importance of Being Earnest, 7th to 11th June 2016
The Snow Queen, 24th to 28th November 2015
Avenue Q, 1st to 6th June 2015
The Three Musketeers, 26th to 29th November 2014
Godspell, 3rd to 7th June 2014
Pinocchio, 26th to 30th November 2013
A Flea in Her Ear, 21st to 25th May 2013
Camelot the Panto, 27th November to 1st December 2012
Sweeney Todd, 22nd to 26th May 2012
Panto at the OK Corral, 22nd to 26th November 2011
Cabaret, 10th to 14th May 2011
The Farndale Avenue Housing Estate Townswomen's Guild Dramatic Society Murder Mystery: "Murder at Checkmate Manor", 11th to 15th May 2010
Cinderella, 24th to 28th November 2009
The Full Monty, 9th to 13th June 2009
Cinderella Interstellar, 25th to 30th November 2008
The Beggar's Opera, 15th to 18th July 2008
Babes in the Wood, 27th November to 1st December 2007
I Didn't Do It 'onest – The Panto, 27th November to 2nd December 2006
Return to the Forbidden Planet, 20th to 24th June 2006
Beauty and the Beast - The Panto, 22nd to 26th November 2005
Love Begins At Fifty, 27th to 30th April 2005
Treasure Island, 23rd to 27th November 2004
A Right Victorian Knees Up - The Mystery of the Black Sheep, summer 2004