Watermill Theatre - Robin Hood
15th November 2018 to 5th January 2019
Review from Newbury Theatre.
The Watermill's Christmas shows have tended to be good, solid shows but not very panto-like. Last year's The Borrowers was typical of this, with actor-musicians, lots of action but not much interaction.
Well, this year it's all changed. Robin Hood has the actor-musicians but it has a baddie for us to boo – and for him to abuse us in return.
The play starts with a Dick Turpin-like encounter in the forest with a coach hold-up and robbery. We then discover that the brains behind it is Robin Hood who rejoins the merry many. But this is not the Robin we thought we knew; for a start, Robin is – shock horror – female and moreover she is more interested in keeping the swag than distributing it to the poor. But Will Scarlet (Ned Rudkins-Stow) is better than this and persuades Robin that philanthropy is a more noble option.
Among the merry many, we also meet the usual suspects: Friar Tuck (Jorell Coiffic-Kamall), Little John (Daniel Copeland), Alan-A-Dale (Leander Deeny – more of him in a moment) and Maid Marian (Stephanie Hockley), and soon we come across the real villain of the piece, the Sheriff of Nottingham. This was a superb comic performance by Leander Deeny of a man being really evil in an unsuccessful attempt to hide his own inadequacies. He doesn't just hate Robin and his gang: he hates us, the audience, too and is extremely rude to us.
Laura Dockrill has written a very clever play, bringing out the human frailties and insecurities of the characters, including Robin – a well nuanced and thoughtful performance from Georgia Bruce – while providing jokes and story lines to entertain adults and children (yes, lots of fart and bum jokes which the kids loved but, let's own up, the adults did too).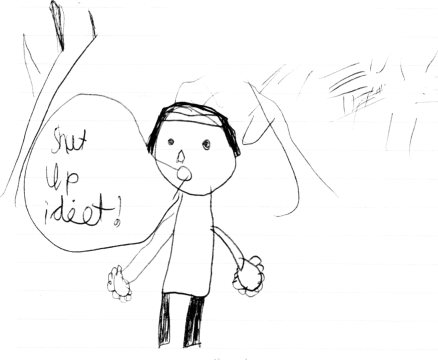 The Sheriff in full rant
Frankie Bradshaw's set represents the forest (the trees looked a bit dead, but maybe it's just winter) and a somewhat incongruous balcony but also manages to include a river (Friar Tuck, remember him?) and the Sheriff's office.
Hugo White wrote the music (strong on kazoos) with the actors playing and singing as usual for the Watermill. Good, catchy songs and clearly sung except, surprisingly, when the Sheriff used the megaphone.
Laura Keefe directed the strong cast in this fast-moving, fun production. A delight for grown-ups and kids and the nearest the Watermill has come to a traditional panto. Highly recommended.
My co-reviewer Ellie said:
The Sheriff was my favourite although he was a baddie – he was very funny. The music was dramatic. All the characters are funny. Robin was quite strict with his men. There was lots of movement.
PAUL SHAVE and ELEANOR SHAVE (age 7)
Review from The Times.
Prepare for equal parts groans and giggles — some of the production's quirkiness is charming, but some is utterly feeble


Think you know the evergreen Nottinghamshire legend? Well, I guarantee you've never seen it quite like this. Forget derring-do and men in tights. In fact, forget anything resembling a coherent plot because this version, by the children's writer Laura Dockrill, is too busy larking around in its own wacky world to bother much with the familiar romantic heroics.
Some of its quirkiness is charming and agreeably silly. Some is frankly feeble. Laura Keefe's colourful, chaotic production needs stringent tightening up. Yet the six-strong cast of actor-musicians are appealing, with Leander Deeny's manic, swivel-eyed Sheriff of Nottingham wrangling laughs from jokes so weak they ought to be outlawed.
Robin is a nimble pink-haired girl (Georgia Bruce). She and her gang are dressed — who knows why — as boy scouts. The Merry Men are renamed the Merry Many (a nod to the Corbynite slogan?), Little John (Daniel Copeland) has a sweetcorn fixation [baked beans, surely? Ed], and Alan-A-Dale (Deeny, doubling up) clutches a beer bottle and is permanently sozzled — a rather dubious running gag in a family show. Maid Marian (Stephanie Hockley) is a hippy chick who loves to knit.
There are rock songs with outrageously bad lyrics by Hugo White of the Maccabees, and the plot ambles around the designer Frankie Bradshaw's glittery Sherwood Forest without the faintest flicker of urgency. It barely registers when Ned Rudkins-Stow's lanky Will Scarlet is captured; and there's a protracted pointless sequence in which Marian and Robin reminisce about their schooldays together. The dialogue and tone are occasionally plain weird: why does Marian call Robin a "trollop"?
Still, if it sometimes feels as if the performers are fighting a losing battle against Dockrill's script, Deeny comes closest to triumphing. A frothing Middle Englander in an Alan Partridge jumper, his Sheriff is consumed by envy and petty spite, relentlessly bullying Jorell Coiffic-Kamall as his hapless henchman. And although his thwarted secret passion for Robin feels like an authorial afterthought, he's ebulliently entertaining: the undoubted highlight of this amiable shambles. It's too good-natured to dislike, but it's equal parts groans and giggles.
SAM MARLOWE
Review from the Newbury Weekly News and the British Theatre Guide.
The girl from the hood
Watermill produces another inventive Christmas show
Robin Hood, at The Watermill, Bagnor, until January 5
"a refreshingly vibrant new production... there is so much to enjoy... oodles of audience participation in this fun-filled family show... it's brilliant... don't miss it"
The Watermill's Christmas show is a refreshingly vibrant new production of Robin Hood, written by award-winning author Laura Dockrill with catchy, spirited music by Hugo White performed by a highly-talented company of actor musicians.
Frankie Bradshaw's beautiful set design of fragmented trees with glitter creates a magical atmosphere and there is a modern feel to the costumes that works very well.
The story is well-known, but in this version Robin is cast as a girl and Georgia Bruce gives a feisty vivacious performance as our heroine, who robs from the rich to give to the poor.
There is a wonderful take on the Direct Line Pulp Fiction TV advert as Little John, excellently portrayed by Daniel Copeland, is involved in an accident with Miss Snobs' coach and Robin pretends to be the insurance agent offering to help with the claim while taking her jewels and money as 'evidence'. Brilliant tongue-in-cheek humour.
Leander Deeny is outstanding as the petulant, wicked and nasty Sheriff of Nottingham, who relishes in being evil and drives the storyline with endless energy taking full advantage of the witty script to insult everyone.
He has taken over Nottingham Castle and is forcing the poor to pay heavy taxes and Robin to live in the forest with her band of outlaws.
Joining them is the friendly Friar Tuck (Jorell Coiffic-Kamall) and Will Scarlet (Ned Rudkins-Stow) as they plan to defeat the Sheriff despite a reward of £20,000 for the capture of Robin dead or alive.
Robin seeks the help of her old school friend Maid Marian (Stephanie Hockley) who crochets dolls to give to the poor and is obsessed with knitted crochet dresses and cushions. But they also fight over the memories of their childhood squabbles.
Meanwhile, the villainous Sheriff has captured Will and Robin sets off to rescue him and take his place in prison.
Does the plan work? Will Robin save the day and Maid Marian accept the Sheriff's proposal of marriage?
There is so much to enjoy in director Laura Keefe's inventive, playful production, from the rock 'n' roll and upbeat music to the street dancing and floss, there was oodles of audience participation in this fun-filled family show.
If you are looking for the perfect start to the festive season then Robin Hood hits the bullseye. As my two young companions said: "It's brilliant."
Don't miss it.
ROBIN STRAPP
There are reviews from PocketSize Theatre ("sadly it does not work and the cast have to put a lot of effort to get anything out of the clunky script... the humour here misfires with the adults in the audience" - 1 star), Daily Info ("the funniest villain you could imagine... perfect for age 8+ as well as being great fun for adults and not too scary for smaller children"), The Stage ("a certain chaotic appeal... although the tale may be familiar, the telling certainly isn't... committed performances give life to an off-the-wall adaptation of the famous folk tale" - 3 stars).