Shining Lights - The Roses of Eyam
14th to 15th July 2008.
From the Newbury Weekly News.
Fear and sacrifice at the time of the plague
Shining Lights Youth Theatre: The Roses of Eyam, at New Greenham arts, on Monday, July 14th and Tuesday, July 15th.
When the plague arrived in the Derbyshire village of Eyam in 1665 and people started to die at an alarming rate, the Rev William Mompession overcame his difference with the Rev Stanley, the pervious rector of the village. They co-operated to persuade the villagers to prevent the spread of the disease by quarantining themselves from the outside world.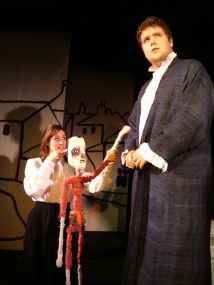 From the very start, we felt we were all part of the village, with the cast emerging from seats within the audience, each quietly quoting an appropriate phrase as they moved onto the stage and drew us into their story. The setting was impressive with an imaginatively constructed oak tree as the focal point surrounded by the streets and houses of the village. As the story unfolded, these houses were marked with red crosses when the disease overcame their occupants and the enormity of the tragedy was laid before us.
Throughout the play, the skilful lighting and gentle background music added further atmosphere to the situation. The cast of nine played all the principal roles as well as those of the villagers.
Although this play was originally written for a large cast, these performers created the impression of numbers with well choreographed movements and groupings. The use of 'puppets' for the other significant characters was ingenious, well handled and particularly effective for the boy separated from his girlfriend from a nearby village.
Daryl Hurts was excellent as William Mompession, as he first showed leadership and determination to guide the villagers and then, with Chantelle Davison as Catherine Mompession, was brought down to a low with the emotional death of his wife.
This particular scene was very well done.
There were also excellent performances by all the other actors, notably Katie Hartley-Kane as the Rev Stanley and Tom Harland as Marshall Howe. The Plague reached its climax in 1666 and the scene of the open air service was particularly poignant when the surviving villagers listed the names of more people who had died and quietly placed further crosses on houses.
This was a powerful, well directed play with a group of young talented actors. However, it was disappointing to see so few in the audience on the second night.
PETER KEARNS