Boundary Players - 84 Charing Cross Road
6th to 10th November 2001.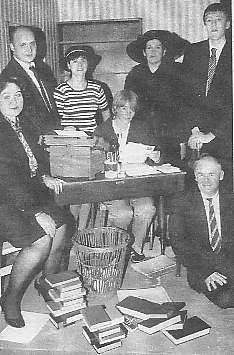 Here is the review from the NWN.
Play of two halves
84 Charing Cross Road, performed by Boundary Players, at the William Penney Theatre, from Tuesday, November 6 to Saturday, November 10
This was one of the strangest plays I've seen. Imagine a play with no dialogue, where the actors read out letters that had been sent between a New York playwright and a second-hand bookshop in London. This sounds like the recipe for a boring evening, which could account for the small audience at the William Penney Theatre, but I found it totally gripping and fascinating.
Helene Hanff started buying books by mail order from Marks & Co, of 84 Charing Cross Road, in 1949. Her bubbly enthusiasm contrasted with the stiff formality (Dear Madam) of the first replies from Frank Doel of the bookshop, but as the years went by, through the 50s and 60s, the correspondence evolved into a long-range platonic love affair between the two, with the rest of the staff as an extended family.
The play depends on the two main characters: Helene and Frank, played by Pat Archer and Colin Webb, and because there is no direct interaction between them it's a hard play to do. Pat Archer mixed a naïve eagerness with Helene's dry wit to give a beautifully controlled image of the best characteristics of Americans. Colin Webb's initially dour shop assistant blossomed in the sunshine of Helene's letters and gift parcels. They were a well-matched pair, and both good actors. But... Colin Webb's hesitance with the words slowed the pace down, and in the second half the play almost ground to a halt because of the repeated prompts needed by both players. Please, Boundary Players, extend your rehearsal schedule by a week or two.
The set, split between New York and London, gave a good period feel, although I thought that the bookshop would have looked older and seedier. Producer Mary Robinson (who was also the Stage Manager - how did she do it?) added variety to what could have been a very static play by getting the 'receiving' half of the stage to react to what was being said on the 'sending' half.
There was a good supporting cast, with Chris Horton, Mary Ann Mendum, Will Collins, Richard Mier (in two non-speaking parts; more convincing as young Thomas), Natalie Dommett and Ann Phipps.
PAUL SHAVE