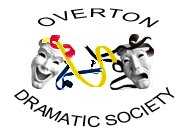 The ODS web site is at www.ods-online.co.uk.
Next production
A Flea in Her Ear, 21st to 25th May
By Georges Feydeau (translated by John Mortimer). The play is set in Paris in the early 1900s, with door slams, perfumed letters, infidelity, mistaken identity and typical farcical misunderstandings - all set in a townhouse and a hotel with a dubious reputation!
Where
St Mary's Hall, High Street, Overton.
Box Office
Tel: 01256 770333.
Previous productions
Camelot the Panto, 27th November to 1st December 2012
Sweeney Todd, 22nd to 26th May 2012
Panto at the OK Corral, 22nd to 26th November 2011
Cabaret, 10th to 14th May 2011
The Farndale Avenue Housing Estate Townswomen's Guild Dramatic Society Murder Mystery: "Murder at Checkmate Manor", 11th to 15th May 2010
Cinderella, 24th to 28th November 2009
The Full Monty, 9th to 13th June 2009
Cinderella Interstellar, 25th to 30th November 2008
The Beggar's Opera, 15th to 18th July 2008
Babes in the Wood, 27th November to 1st December 2007
I Didn't Do It 'onest – The Panto, 27th November to 2nd December 2006
Return to the Forbidden Planet, 20th to 24th June 2006
Beauty and the Beast - The Panto, 22nd to 26th November 2005
Love Begins At Fifty, 27th to 30th April 2005
Treasure Island, 23rd to 27th November 2004
A Right Victorian Knees Up - The Mystery of the Black Sheep, summer 2004